Today I wanted to give someone remote console access using vSphere web access.
I granted him virtual machine user access, which should be sufficient. However after installing the component for remote console view. The session failed with the following error:
The attempt to acquire a valid session ticket for <virtual machine> took longer than expected.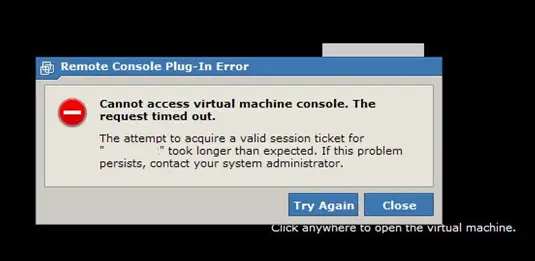 Image 1: VMware error message.
The solution to this problem can be found here: http://kb.vmware.com/selfservice/microsites/search.do?language=en_US&cmd=displayKC&externalId=1013816
Creating a shortcut can be done in the first screen (Summary) in the Commands part.
Recent Content
link to Using Home Assistant SDM Nest Integration
As you might know, Google has shut down the Works with Nest program since the 31st of August 2019. Since then there was no official way to integrate Nest products with Home Assistant. Lets not talk...
link to How do I back-up Home Assistant?
Home Assistant is a great piece of home automation software. Installing and configuring of Home Assistant can take quite a lot of time. And you want to make sure you do everything to protect your...