Sometimes it's a bit tricky to relate events generated by the SCCM management pack for SCOM to real SCCM errors.
This article helps you to trace down the real SCCM error by using a real world example..
Let's start by looking at the alert generated by the management pack in the SCOM console:
Notice the two items marked:
In this example the component affected is SMS_DISTRIBUTION_MANAGER and the message ID is 2302.
Now let's start the SCCM management console, drill down to Site Database -> System Status -> Site Status -> Your site name -> Component Status.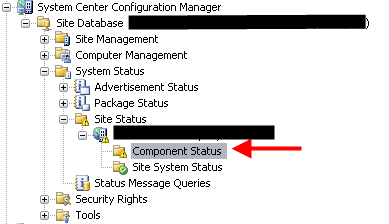 The right pane should now give you a list of all the SCCM components,  note the SMS_DISTRIBUTION_MANAGER and the error count:

Now right click the component with errors and select "Show Messages -> All"
A message status viewer will now popup showing some detailed information about the error:

Note that the message ID of the error reported by the management pack is listed here. This should give you some in-depth information about the error.
I hope this article helps you to trace alerts generated by SCOM down to the real SCCM errors.